Construction management software remains untapped technology for many construction companies, besides being its growing popularity. It's because still many builders and modelers aren't aware of what exactly is construction management software? Here's a simple definition:
Construction management software, by definition, is a project management solution built exclusively for construction professionals to make construction business operations easier. This type of software aids participants of the construction industry by automating operations that were previously done manually, such as communication, decision-making, project scheduling, and much more. Whereas these are only a few benefits, BuildMacro offers a wide range of construction management software features.
In this article, we'll have a quick view of the pros and features of construction management software.
Pros of Construction Management Software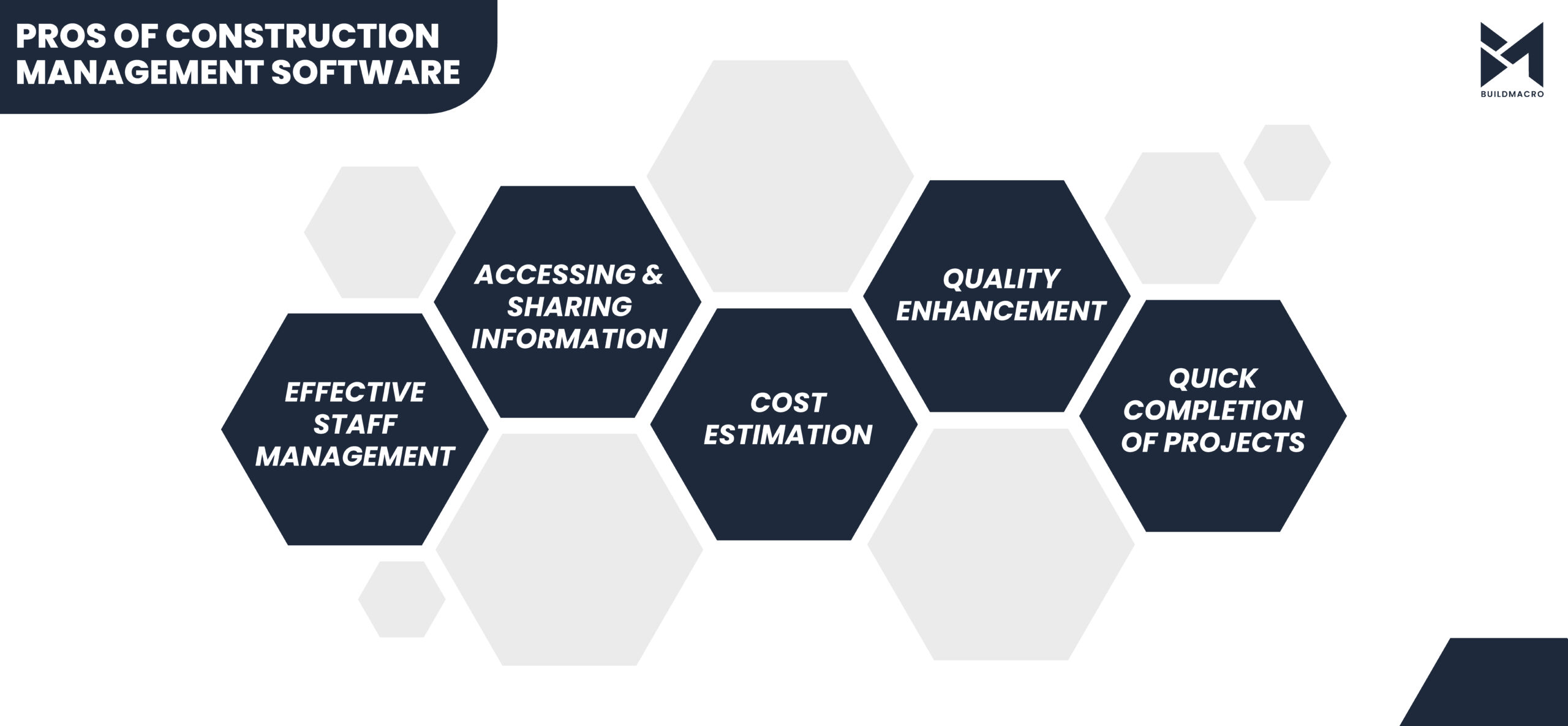 Effective Staff Management
Every construction management software's major purpose is to help you take a methodical approach to management. As a result, this solution enables personnel to guarantee that projects run successfully and according to schedule. It also allows employees to create professional information requests, transmittals, and submittals, among other things. It enables essential personnel to communicate critical data and project budgets, which can be tracked at the same time.
Accessing & Sharing Information
Because all project management data is kept in one place, it's as simple as clicking a mouse to get the information you need. Aside from that, audit log records, which show the date and time of document creation and change, make it easier to keep track of such papers and prevent them from being misplaced. Any project-related employee has rapid access to critical data at any time.
Cost Estimation
The software isn't limited only to management purposes. It eventually helps in construction cost estimation too. Hence, sometimes it is also called 'construction estimation software'.Construction management software may assist staff in locating important documents such as contracts, modification orders, and budget status by utilizing its construction accounting skills. As a consequence, project expenses are reduced, and project faults that may result in large expenditures are avoided. It also lowers operating expenses and provides real-time financial data, allowing the organisation to become more lucrative.
Quality Enhancement
By enhancing construction security, construction management software increases project planning and control. It also helps to minimize costly mistakes by reducing project delays and improving communication.
Explore More About Costly Errors On:- A Surprising Tool That Reduces Error While Construction Cost Estimation
Quick Completion of Projects
The software can assist in speeding up project completion by supporting effective business procedures. This can lead to business growth by allowing you to take on additional contracts.
These are the benefits that a builder or remodeler can acquire by implementing home builder software like BuildMacro in their project. Heading further, we'll have a look at the features offered by BuildMacro to improve the construction sector in terms of efficiency, productivity, and competitiveness within the market.
Features of Construction Management Software Finance Dashboard
BuildMacro is a construction management tool that provides a range of features. One of them is the Finance Dashboard. As the name says, you'll be able to look after the budgeting of your project. With our Finance Dashboard, you can manage:
>> Project Payments – Handle the payments of contracts, calculate variation estimates, and invoices.
>> Project Bills & Budget – Create quotations flawlessly and calculate the overall budget of the project.
>> Purchase Order – Send and receive purchase orders, also create purchase orders without missing out on anything.
Files
Managing pertinent documents is one of the key features of construction management software. Such software enables companies to create a single platform for data reports. BuildMacro offers a checklist feature where you can always keep an eye on important documents and know their status accordingly. Additionally, you're provided with a File Manager portal from where you can share files with your subcontractors, staff, or client.
Project Management
This function essentially automates every aspect of project management in the construction industry. This includes:
>> Project Team – Manage contractors, suppliers, and the builder team.
>> Project Tasks – Add tasks remotely for your staff, also track the status and duration.
>> Gantt Chart
>> Daily Logs
>> Time Clock – Record shifts, clock-in and out, and track total hours taken from the start to the end.
Keep exploring more features of our construction management software. Visit now – https://buildmacro.com/features/