In construction industries, even a little error can be costlier. Despite this fact, costly errors usually occur on construction sites. Thus, it doesn't mean that they can't be reduced proactively. The majority of frequent construction estimate errors occur as a result of our failure to pay attention to key elements. One of the requirements for getting work and maintaining a successful construction firm is having an effective construction cost estimation process that allows you to develop a timely and accurate estimate for a construction project.
One can take on profitable jobs and stay ahead of the competitive construction industry if their construction cost estimation is accurate. Are you still creating cost estimation manually or using Excel? Well, probably you're making more potential costly errors. By using a construction estimation software like BuildMacro, you stay away from making avoidable construction cost estimation errors. In this article, we'll look at some common errors that come with construction cost estimation.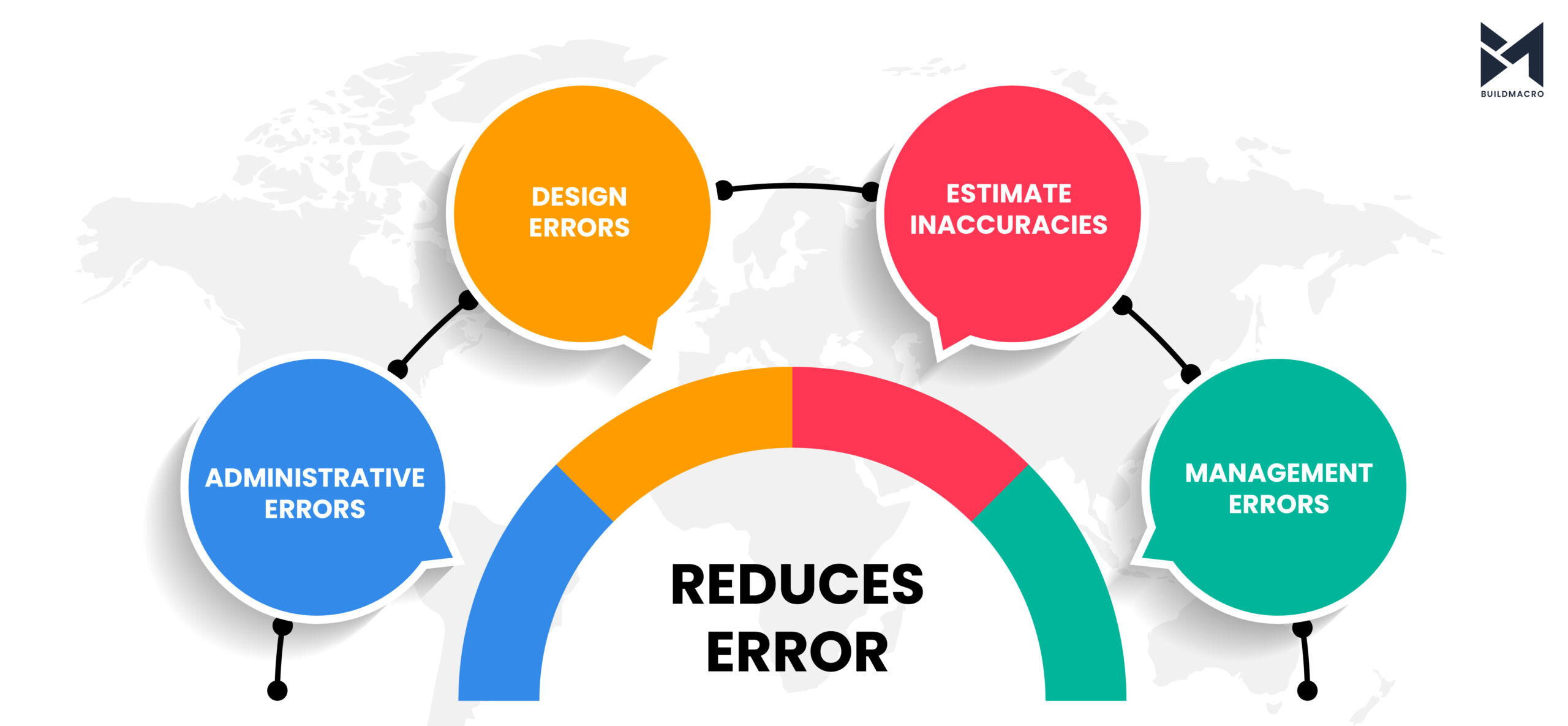 Administrative Errors
Until now it seems like errors occur only at job sites, that's not mandatorily the case. Some errors do occur at the administrative stage. Like, if the information is not filtered properly then the project manager may lack assigning duties affecting the progress of the project. Besides, the main reason for the error is receiving information too late or there's a miscommunication while receiving information. As a result, projects may go over budget or observe inaccuracy in construction cost estimation.
Here's another example, where BuildMacro steps in! Being the project owner you can give access to your administrative manager and project manager with the help of our home builder software. So, they can track the happenings of the project and coordinate accordingly without any mistakes.
Design Errors
Continuous revision of the design of the project is one of the major hurdles while estimating. As if the design is not finalised and keeps revising, the project faces delays. Typically, the more the delay, the more costly the project will be. What more can you do to aid in the reduction of design errors? Integrate data sets and make them accessible with the help of tools like BuildMacro. This helps in pulling all of your construction cost estimation at one location where all can determine errors. Also, it's advantageous that everyone can see what's going on digitally since this reduces communication barriers as everyone discusses the project's intricacies.
Explore More About: Construction Cost Estimation

Estimate Inaccuracies
The bidding procedure is notorious for making the most costly mistakes, causing problems before the project even starts. You know as a construction manager that bidding is competitive and that the lowest bid usually wins. Avoid using a one-size-fits-all approach to bidding or speeding through your estimates since you'll risk coming in under budget.
When this happens, the estimate you provide does not cover the whole scope of the project. As a result, it will not correctly reflect the project's timeline or budget. Analyzing all aspects of the project and soliciting input from contractors and architects is a great method to guarantee your construction cost estimation is correct. There are two alternative approaches to avoid estimate inaccuracies:
Number 1: Using construction estimation software like BuildMacro that reduces errors and increases the accuracy of the estimation.
Number 2: Implementation of takeoffs to reduce the time of construction cost estimation. Fortunately, BuildMacro features 'take-offs' to help builders and remodelers.
Management Errors
Many of the times, the communication between the team and site manager is not effective. This leads to disruption of the information, resulting in costly errors. BuildMacro provides a project management portal that assists your site manager in taking over the project without any miscommunication. Our construction management software lets you assign tasks to your team and get them completed quickly, reducing the risk of over budgeting.
In Short
It's vital to have a strong grip on how to eliminate costly errors in your construction cost estimation. You will not only benefit from improved communication and organization, but your firm will not incur a loss. BuildMacro is a proactive strategy to assist in the reduction of costly errors in your construction estimation so that your company may grow and make a profit. Book you Free Demo now, to explore more!